Paradise Toronto Limo, offering you with a variety of limousine services, limousine fleet, professional limousine drivers all for your next limousine rental in Toronto and the GTA. by Hal Harper
August 6, 2019
If you had credit card compromised after using this company or were double charged please contact me as visa and police launching an investigation. by Mich Mango
August 6, 2019
Merchant double charges clients! Don't use this company. Coach bus didn't have air conditioning for the wedding. Fought to get compensation. Then have to deal with VISA to dispute a second charge over one month after service was provided. Google this company. Terrible reviews. Lesson learned. I'm going to the media with this. They have a reputation of double charging clients. Totally no compassion. Terrible service! Would not recommend to ANYONE! by Kylidasilva
July 3, 2018
Used their services for my wedding day. Limo was run down inside and the ac was broken.
Driver refused to drive the second half of my wedding party without payment, which we told her was waiting for her at drop off. She was incredibly rude to my wedding party and family about it,

Called to make a complaint and at least get a refund back from the automatic gratuity included in the final price.

Owner SCREAMED at me, stating he is recording the call and can use this call against me in a court of law and that he has a very expensive lawywer.

Said he could have refunded me back my entire cost but that he will not do that.

I told him i will be leaving a negative review for the way he spoke to me and he said "go ahead", so here it is.

BEWARE OF THIS COMPANY. TERRIBLE TERRIBLE PEOPLE. by verncorby
May 29, 2018
Used the service to transport my daughters wedding party. Driver showed up late due to an accident, which I completely understand. He called and we were prepared. He put his hand out asking for more money. The tip was included in the charge which was paid. I informed him his driver was speeding and hit the brakes with no warning to the girls and 5 went flying. 2 hurt and 3 girls in the aisle with the Maid of Honour's dress ripped. I called to give Albert the Manager the opportunity to correct the situation, WOW, what a rude individual, totally unreasonable and threatening. I discussed the situation with the police and they gave me good advise, again I gave him the opportunity to rectify the situation in some way. Again, he was threatening and completely unreasonable. Wonder how he would feel if this happened to his daughter and her wedding party. DON'T USE THIS SERVICE. They have lost our corporate account and also all the family have refused to use this service. If you treasure your precious cargo........stay away.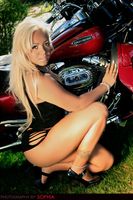 by carolina reyes
October 19, 2017
For my big Birthday treat, I decide to book a Limo for a night out with some friends. Booking with Jon at Paradise Limo was a pleasure to deal with from the start. He has an amazing level of professionalism! Communication was excellent at all times. He even informed the name of the driver in advance, which I find a nice touch for safety reasons. The driver name Manakah was well-mannered, professional, patient, and friendly! I can say with confidence that Limousine Paradise is a great company! They are very responsive and accommodating!
The Limousine was very clean, spacious, and modern. I felt that I was in Paradise. Indeed, they have a great selection of vehicles to suit different needs. Also, they offer above and beyond service. Next time I'm booking the Party Limo Bus.
I was so happy with my choice for the limo company: Paradise Limo and I would definitely recommend them! What a great experience we had! Thank you Jon and your team! by pearlmark8
July 9, 2017
Thank you Jon and your driver Rafe for your professionalism, punctuality, and always answering all my questions so promptly. All went smoothly. Pearl by Antonio Nataliz
June 19, 2017
I want to thank you for a fantastic service you were part of my making our big day perfect
once again thank you
Antonio Natalizio
I will highly recommend your service We used you guys this past Saturday and I just wanted to let you guys know that the driver we had (Mihran) was amazing! He treated us very well and always made sure everything was going smoothly. We will use you guys again due to Mihran and how well he ran everything for us.

Thanks, Lewis I want to say a big Thank-You to all of you. Interacting with you, was a pleasure. I applaud all of you as you contributed to the success of Anne-Marie and Kevin's day. I'm sure the couple is enjoying the kick off towards their happily ever after.

You were all amazing, wishing you all continued success in all you do.



Reviews powered by